Photos
French style garage doors are not to be confused with the typical French style doors commonly used in patio or interior doors. The French have exquisite taste for finer craftsmanship and particular fondness for a vibrant color palette. This custom French garage door project consisted of a matching side entry door as well as decorative shutters with uniquely designed decorative hardware for this project only!

The custom French style garage doors themselves are similar in design but with some variations that set them apart from each other. The single car garage door in the image is simulating swing-open double doors with beautiful European dummy lever handles and hand forged scrolling on the upper arched area of the French garage door. A beautiful diamond shaped design element was used at the bottom of the custom garage door design which is popular shape used in many French architectural buildings, railings and design panels. Using decorative lever handles in bronze set off the look and fool the eye. Pressing a button from a handheld remote reveals the true overhead, roll-up functionality of the garage door allowing a car to drive in safely. Side lanterns were added to accentuate the look of that French Provincial design we selected for the single-car garage door.

Looking closer at the custom double-car garage door, notice how the upper portion of the door design changed to a more simple, less ornate design that resembles two large French Style Carriage Doors. Large dummy handles with fleur de lis finials are the center piece that give this French garage door a gorgeous provincial appearance while the decorative garage door hinges also resonate that fleur de lis finial design that ties the garage door design together.

Both French garage doors were richly stained in a vibrant color that pops against the soft yellow plastered walls and create a bright contrast between the blue man door and custom shutters we designed and crafted for this project. The authentic design and configuration of the decorative hardware was unique to this project including the custom designed pull handles on the double car garage door, the levers on the single-car garage door as well as hinges and hand forged scrolling.

Our design team was able to add color, authentic French design and a vivid curb appeal to this Rancho Santa Fe home in San Diego County. We can do the same for you by calling (855) 343-3667 and consulting with our in-house designers.

These custom designed French shutters were crafted in a gorgeous raised panel configuration. The fleur de lis hinges were uniquely designed for this French style shutter project. Achieving the right color of aged blue took several samples that were brought out to the residence and physically compared to the plastered walls. Powder coating the the decorative iron hardware in a light, speckled bronze color created an elegant French Provincial statement and gave the architectural shutters a sophisticated European flare. As part of a larger exterior door and custom garage door project, these shutters were the perfect complement to this French Provincial style home in Southern California.

If you're only looking for custom-designed architectural shutters for your home, our designers will be delighted to work with you and your home's style to create one-of-a-kind decorative shutters that will enhance your home's curb appeal. We can also combine entire exterior door, garage door and gate projects into a single custom project to achieve a unique architectural statement that will likely make your neighbor envious!

Orange County, CA - Spanish Garage Doors by Dynamic Garage Door are perfect to accentuate any Spanish Colonial style home like this San Clemente, CA home that was completely renovated to its original glory.

Our custom Spanish style garage doors are beautifully handcrafted in solid, rustic woods to revive that Old World charm. Our decorative iron hardware is discerningly selected to meet the criteria of authentic European hardware that we still craft much in the same way it has been done for centuries. Our main focus with Spanish style garage doors is to maintain authentic design purity which make our custom Spanish garage doors as appealing as they are durable.

This front picture shows off the beauty of the dark stained mahogany wood we used on this custom garage door. The dark stain color exquisitely complements the wooden eves of the Spanish style house with its rustic terracotta. We further elaborated the design using hand-forged ring pulls and decorative iron hinge straps that give you the illusion of out-swing carriage doors.

Let us custom design your unique Spanish Style Garage Door, call our design team at (855) 343-3667, we do ship nationwide too!
San Clemente, CA - Selecting the right custom garage door design for your Spanish style home can increase your home's curb appeal dramatically. Our Spanish Style garage doors are elaborately designed and handcrafted to accentuate your Spanish home's architectural style by complementing some of the existing architectural elements. Keeping within the color and style of your home will make your custom garage door a great investment for years to come!

This gorgeous Spanish Colonial home in San Clemente was gorgeously fitted with a custom garage door by Dynamic Garage Door. The custom door features beautiful Spanish accents such as the decorative iron hardware which includes decorative iron hinge straps and ring pulls. The dark stained mahogany beautifully complements the dark wooden eves of the home and picks up on some of the tonalities on the terracotta roof tiles.

Get pricing on our custom-made Spanish Garage Doors at: (855) 343-3667
Orange County, CA - Spanish Colonial bungalows throughout California have become charming fixtures of California's architectural heritage. Our custom designed architectural garage doors are handsomely designed by our experienced in-house door designers to capture the charming beauty of yesteryear. Each Spanish garage door we craft is designed with the ultimate complementing result increasing the curb appeal of the home in question.

Our Spanish Garage Doors are rivaled second to none because of their unique styling specifically made for each of our client's personal taste and existing home architectural elements. Take for instance, this San Clemente, CA Spanish Colonial home which was beautifully renovated to an authentically charming Spanish architectural style. The garage door features authentic European features such as the handmade iron hardware. Crafted out of solid African Mahogany wood, the custom garage door was masterfully finished in a dark toned stain to complement the existing home's eves and dark iron light fixtures found throughout the premises.

Dynamic Garage Door is the Southern California leader in design and manufacturing of authentic Spanish Colonial Garage Doors. Our work is evident and highly acclaimed for its detailed beauty that makes each new project exquisitely appealing to the eye!

Call our Garage Door Design center at: (855) 343-3667 for pricing, local installation and/or out of state shipping options!
Central Valley, CA - Dynamic Garage Door has been custom designing and manufacturing custom wood garage doors for the Central Valley for many years. Our custom garage door designs are highly desirable for their durability, architectural correctness and timeless beauty.

This custom project in Visalia, CA consisted of two modern style garage doors and a courtyard entry door handsomely crafted in eco-friendly composite wood materials. The modern design configuration between each door complements each other but they each have their own individual identity. In this picture you can appreciate the two custom garage doors, one with asymmetrical windows and the other one without. In the center you'll see the courtyard entry way with a matching entry door beautifully finished in a faux-wood grain finish that was done by our in-house faux finishers.

All three doors have a horizontal slat design with a v-groove design except the double-car garage door has an asymmetrical offset line of windows that run on one side of the garage door. This breaks the monotony of too much continuity and adds a touch of interest that balances the entire curb appeal of this modern home. The gorgeous stainless steel pergola above the double-car custom garage door ties in well with the silver frames around the five asymmetrically placed windows with their translucent white laminate glass panes.

Finished by hand in a faux wood grain, all doors complement the soft exterior colors of this modern style home. You can see that architecturally beautiful homes can also be found in the Central Valley of California and not just the coastal regions. We have engaged in stunning custom home projects in the valley and with great success. Our in-house design abilities make our garage doors the perfect fit for any luxury home in the Central Valley!

For prices on our custom garage doors and gates, call us at: (855) 343-3667
Visalia, CA - Located in the Central Valley this newly constructed modern home features custom garage doors by Dynamic Garage Door. In this photo you can see the double car garage door with its horizontal slat design and asymmetrically placed window panes. The windows features a silver colored frame and white laminate glass for privacy. The stainless steel pergola above the garage door ties in beautifully with the window frames of the custom garage door. Placing the windows off to the side adds a modern twist to the curb appeal of the home.

The custom garage door was handcrafted in composite wood materials, faux-finished by hand to simulate real wood. There are many advantages in building composite garage doors such as the fact that they won't crack, bow or split. Maintenance is substantially less on composite custom garage doors as opposed to real wood garage doors. Composite garage doors are typically a great choice for harsh weather environments where the temperature and humidity changes drastically between the seasons.

Call our Garage Door Design Center today for pricing and design consultation. Let's explore your options and build you the most gorgeous garage doors you've ever seen! (855) 343-DOOR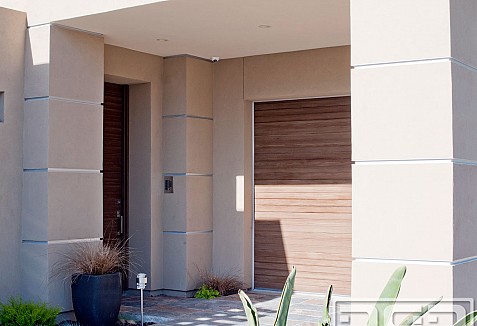 Central Valley, CA - Featured in this image, side by side, is the single car garage and entry courtyard door that we designed, crafted and installed for this modern home in Visalia, CA. Both doors feature horizontal v-grooved slats in composite materials. Finished in a faux-wood grain finish, the custom-made modern doors appear to be wood but with the advantage that the composite materials will not crack, bow or expand like real wood. This will prolong maintenance intervals and ensure the custom garage door and modern entry door last a lifetime!

Let our custom door designers create complementing garage doors and entry doors for your home. We serve all of California and ship our doors internationally. For a design and price consultation please call us at: (855) 343-3667
Central Valley, CA - Featuring a modern design entry door in composite wood materials with modern chrome lock set. The modern door design features a horizontal slat design with v-grooves finished in a hand-applied faux stain which simulates real wood grain. The design, though minimalistic, is a beautiful touch to the modern home and complements the garage door designs beautifully. Both, the garage doors and gate, in this project were custom designed and manufactured by Dynamic Garage Door.

Call our Door Design Center in Southern California for project pricing and design consulting: (855) 343-3667
Newport Beach, CA - Dynamic Garage Doors & Gates are highly recognized in the Southern California region and throughout the country for their discerning design and architectural correctness. We achieve this through careful consideration of each home project we will be working on and detailed understanding of the client's needs and project goals.

This exquisite modern style home in Newport Beach, CA was in dire need of richly designed modern garage doors and entry driveway gate. We opted for fine lines and swift finishes that would blend in well with the home's architectural style. The modern driveway gate consists of a linear design in a silver finished steel frame beautifully filled in with white laminate glass panes that offer privacy from the exterior yet the feel is still light and airy because of the translucent white laminate glass.

Driving up to the estate is a luxurious, pleasurable experience as it is done in style and by the simple press of a button. The two modern gate leaves open wide as you pull up to the property at the end of the long driveway. Our modern gates offer safety, security and ease of use not to mention the increase to the curb appeal and value of the property.

Modern Gate & Garage Door Design Center: (855) 343-3667