Modern, ECO-Friendly Composite Wood Garage Doors & Entry Door
Central Valley, CA - Here is a modern style garage door and matching entry door project custom designed and crafted for this central valley home located in Visalia, CA. The custom-built home had fine lines and contemporary architectural elements that made it a fabulous project to work on by designing the garage doors and entry door system within the same modern architectural style.

Both, the garage doors and entry door were crafted in eco-friendly composite wood materials that were hand finished in a faux-wood grain. The advantages of crafting our modern garage doors in eco-friendly materials is the resilience these materials have against the exposure to the elements such as excessive heat, moisture and drastic weather changes throughout the seasons. Our composite modern style garage doors will not crack, bow or split like real wood might do when exposed to the elements. Additionally, with our refined finishing techniques and in-house artisans, recreating natural wood grain by hand is so well done you can't tell the difference unless you were told what you were looking at.

The double car garage door features a cluster of asymmetrically placed window arrangement of five that line up vertically to the side of the modern style garage door. The window frames on the modern garage door were coated in an anodized silver color and fitted with white laminate glass panes that accentuate the modernistic look and feel of the home. Looking at the single car modern garage door we opted for no windows and only a horizontal slat design that, again, follows the home's fine lines and does not deviate the attention from the double car garage door with its asymmetrically paced windows. The modern style entry door follows this same style while it was accessorized with a chrome locking mechanism and handle which bejewels the simple design of the custom entry door that matches both the modern style garage doors in its own unique way.

Designing entire projects that consist of garage doors, gates and entry doors is our specialty and gives our clients the utmost attention to detail and overall outstanding result because everything is coordinated by one designer, one company and one client. None of our projects tend to be repetitive and as seen in this modern garage door project which included a matching entry door, it is important to be on a single page to accomplish a greater goal.

Let our seasoned designers work on your next modern garage door, gate and or entry door system to achieve a unique architectural statement with our custom designed and crafted garage doors, gates and entry door systems. Our projects are testimony of our skill and client satisfaction once it's all completed.

Central Valley, CA - Dynamic Garage Door has been custom designing and manufacturing custom wood garage doors for the Central Valley for many years. Our custom garage door designs are highly desirable for their durability, architectural correctness and timeless beauty.

This custom project in Visalia, CA consisted of two modern style garage doors and a courtyard entry door handsomely crafted in eco-friendly composite wood materials. The modern design configuration between each door complements each other but they each have their own individual identity. In this picture you can appreciate the two custom garage doors, one with asymmetrical windows and the other one without. In the center you'll see the courtyard entry way with a matching entry door beautifully finished in a faux-wood grain finish that was done by our in-house faux finishers.

All three doors have a horizontal slat design with a v-groove design except the double-car garage door has an asymmetrical offset line of windows that run on one side of the garage door. This breaks the monotony of too much continuity and adds a touch of interest that balances the entire curb appeal of this modern home. The gorgeous stainless steel pergola above the double-car custom garage door ties in well with the silver frames around the five asymmetrically placed windows with their translucent white laminate glass panes.

Finished by hand in a faux wood grain, all doors complement the soft exterior colors of this modern style home. You can see that architecturally beautiful homes can also be found in the Central Valley of California and not just the coastal regions. We have engaged in stunning custom home projects in the valley and with great success. Our in-house design abilities make our garage doors the perfect fit for any luxury home in the Central Valley!

For prices on our custom garage doors and gates, call us at: (855) 343-3667
Visalia, CA - Located in the Central Valley this newly constructed modern home features custom garage doors by Dynamic Garage Door. In this photo you can see the double car garage door with its horizontal slat design and asymmetrically placed window panes. The windows features a silver colored frame and white laminate glass for privacy. The stainless steel pergola above the garage door ties in beautifully with the window frames of the custom garage door. Placing the windows off to the side adds a modern twist to the curb appeal of the home.

The custom garage door was handcrafted in composite wood materials, faux-finished by hand to simulate real wood. There are many advantages in building composite garage doors such as the fact that they won't crack, bow or split. Maintenance is substantially less on composite custom garage doors as opposed to real wood garage doors. Composite garage doors are typically a great choice for harsh weather environments where the temperature and humidity changes drastically between the seasons.

Call our Garage Door Design Center today for pricing and design consultation. Let's explore your options and build you the most gorgeous garage doors you've ever seen! (855) 343-DOOR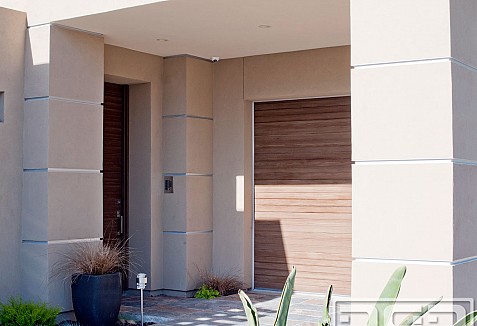 Central Valley, CA - Featured in this image, side by side, is the single car garage and entry courtyard door that we designed, crafted and installed for this modern home in Visalia, CA. Both doors feature horizontal v-grooved slats in composite materials. Finished in a faux-wood grain finish, the custom-made modern doors appear to be wood but with the advantage that the composite materials will not crack, bow or expand like real wood. This will prolong maintenance intervals and ensure the custom garage door and modern entry door last a lifetime!

Let our custom door designers create complementing garage doors and entry doors for your home. We serve all of California and ship our doors internationally. For a design and price consultation please call us at: (855) 343-3667
Central Valley, CA - Featuring a modern design entry door in composite wood materials with modern chrome lock set. The modern door design features a horizontal slat design with v-grooves finished in a hand-applied faux stain which simulates real wood grain. The design, though minimalistic, is a beautiful touch to the modern home and complements the garage door designs beautifully. Both, the garage doors and gate, in this project were custom designed and manufactured by Dynamic Garage Door.

Call our Door Design Center in Southern California for project pricing and design consulting: (855) 343-3667