Los Angeles Custom Garage Door and Gate Project in a Modern Design
Located near Los Angeles, CA in Southern California has given us the opportunity to work with a multitude of custom homes in a variety of architectural styles. One of the biggest and often overlooked upgrade on a high end home are the garage doors and entry gates. There's often a lack of attention to these major details that can make or break the entire curb appeal of a home regardless of how luxurious it is inside. Curb appeal is everything in real estate and investing in authentic custom designed garage doors and gates will prove to be a wise choice as these architectural elements not only add beauty but value to the home in question.

This particular project is a great example of how upgrading the garage door and entry gate made an enormous difference to the visual aspect of this Los Angeles home. Before, the home looked bland, aged and perhaps a bit neglected among the other homes in the area that had been upgraded in the past few years. For one, the garage door was still that horrific standard raised panel steel door of the early nineties with a worn out coat of white paint that just got lost with the home's color. The front gate was a bit sad and suffering from an architectural identity crisis. There wasn't a definite architectural style you could detect as you drove by the home. The locals probably passed this home hundreds of times, ignoring its blandness and walking right past it without taking notice. This all changed when we were commissioned by the owner to custom create a wood garage door with windows and dazzling modern entry gate system that would make the whole neighborhood turn green with envy!

Starting off with the garage door, we designed a fine-lined modern design with wide horizontal wood slats in mahogany beautifully stained in a dark espresso color. This created a stunning contrast against the light color of the house and trim. We added three large windows with white laminate designer glass framed in a silver coated steel frame to pull in some of the design elements from the entry gate we designed and crafted. We broke all the rules of garage door design and created a one-of-a-kind garage door that wholesomely improved the beauty of this home's exterior. The door itself is absolutely quiet as a mouse when operated with its Marantec activating device operated by a handheld remote or HomeLink equipped vehicle.

The courtyard gate was completely designed from scratch to capture the home's classic 60's style but adding a flare of modernism and unique beauty. This courtyard gate features a metal frame coated in a soft silver color while the white laminate glass selection offers privacy and airy appearance because of its translucent properties. To further accentuate and increase the architectural consistency of this upgrade, the light fixtures on each side of the gate were painted to match the gate! Fully equipped with an electric strike release, this custom courtyard gate offer convenience, beauty and safety to the home's residents.

At Dynamic Garage Door we not only manufacture garage doors and gates we custom design architectural doors that will return on your investment by increasing your home's value and architectural curb appeal. See our various projects and see for yourself how we make an architectural statement with our custom designed gates and garage doors. Our modern garage doors and gates are innovative, beautiful and built with the utmost care and quality you deserve. Consult with one of our season door designers today and let us give your home a facelift of a lifetime!










Los Angeles, CA - Entryways to a home are like first impressions on an interview, you only get one chance to get it right and get your guests' approval. An custom entry gate system can make your home look architecturally fashionable while easing and controlling foot traffic of welcomed guests and undesired solicitors.

This custom glass and metal entry gate resembles, both, beauty and safety upon entering the front gate courtyard. The modern design is beautifully done in a silver coated frame with white laminate glass panes that offer a sense of airiness as well as privacy. Beautifully finished nickel plated modern entry handles fully equipped with electric strike release conveniently operated from inside the residence to allow or deny access to oncoming guests.

This custom entry gate system was specifically designed for the home's existing architectural style while adding an air of modern taste that flows beautifully throughout the home's front elevation. Our custom gates are unique and highly acclaimed internationally for their unique beauty and quality!

This is a custom designed gate in a modern style specifically designed for this Los Angeles residence. The silver coated metal frame and white laminate glass combination made an authentic architectural statement which increased the home's appearance and accentuated the grand entrance. Using white laminate glass on our modern gates offer a sense of airiness since the glass is translucent which allows ample light to shine through while being opaque enough to preserve the privacy inside the residence. The gorgeous geometrical metal frame design frames the gate's modern design in such a way that it makes heads turn!

Each custom gate designed by our in-house designers is discerningly created to suit each home's architectural style. Sometimes we fuse classic architectural design with a modernistic approach which results in gorgeous eclectic results that are quite dazzling. View the entire project picture album so you can see for yourself what a difference our custom designed entry gate made on this LA home.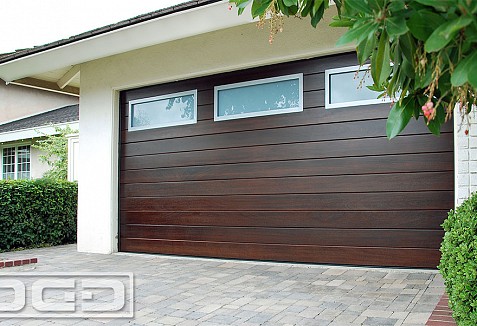 Modern garage doors can be custom designed to complement the architectural style of your home. We tie our custom modern garage door designs together by implementing some of the existing architectural elements found in each home. Most of our modern garage door designs follow a fine-lined minimalistic design which incorporate a variety of materials such as solid woods, fine metals and designer glass options.

This modern designed garage door combines three different materials to accomplish a swift, modern architectural design. The wide horizontal planks are handcrafted in solid mahogany wood finished in a rich, dark stain that warms up the look and feel of the garage door's modern style. Three large windows with silver steel frames and white laminate designer glass give the garage door a light, airy appearance while allowing ample sunlight to light up the interior of the garage during the day. The white laminate glass offers privacy from the exterior but shed natural light inside the garage. This modern garage door design was specifically created for this Mid Century home giving it a freshly updated modern look and increasing the home's curb appeal and value.

Our garage door designers have a keen eye for authentic architectural door design. Every one of our modern style garage doors are uniquely created for each home's architectural style.
Los Angeles, CA - Custom garage doors are great way to update or change the architectural style of your home. This Mid Century home with its low roof lines was a perfect example of a transformation that was greatly due to the custom garage door upgrade.

The modern garage door features a horizontal plank design with designer glass windows at the top framed in silver steel frames that compliment the dark wood stain. Since the home's architecture had a flare of the Mid Century it was important to tie in the modern garage door design with features that complemented those existing architectural lines. Finishing the garage door in a dark stain made a drastic contrast against the home's exterior color scheme while creating a stunning difference between the silver window frames and white laminate glass. The custom garage door windows add interest and the translucent glass offers privacy while allowing day light to come into the garage area during the day.

We can replicate this custom garage door design for you or custom-design a unique modern garage door design specifically for your home. Let our designers create a one-of-a-kind garage door design that will increase your home's curb appeal and value!
Here is a unique modern garage door design created for this classic Los Angeles home from the 60's. The garage door features a modern horizontal plank design in solid mahogany wood finished in a deep, rich stain. Three large windows at the top finish off the modern garage door design with a combination of modern materials such as the silver steel window frame and white laminate glass panes.

Modern style garage doors can freshen up your home's curb appeal and in some cases, such as this, can change the entire architectural style of a home. Upgrading the garage door on this 1960's California home updated the home's architectural style from old and tired to swift and modern. The custom garage door design was created to fuse the home's existing lines with a modern horizontal plank garage door design. The impact the upgraded garage door made on this home is quite stunning! Take a look at the before picture of this home in this project photo album.

Let our in-house designers crate a unique modern garage door design that will make heads turn while improving your home's value!
Los Angeles, CA - Exterior doors play a major role in giving your home architectural style and authentic design. Selecting the right garage door and exterior gate design can be challenging and shouldn't be taken lightly. At Dynamic Garage Door our focus is to create complementing garage doors and gates custom-designed for each home's unique architectural style.

For this Southern California home originally built in the 60's we custom-designed a complementing entry gate and garage door that gave the home a stunning upgrade! The modern entry gate and garage door share some of the same elements to tie them together but each with a unique styling that breaks the monotony of the home's curb appeal.

The garage door is handcrafted in solid wood horizontal planking with modern steel-framed windows. Finishing the wood planks in a dark satin make the silver colored steel window frames pop beautifully against the dark tones of the wood. Using white laminate glass for the window panes add privacy while allowing natural light to brighten up the interior. The silver window frames on the garage door are borrowed from the entry gate which is built in steel and white laminate glass. This subtle touch ties the garage door with the front entry gate without becoming monotonously matching.

The entry courtyard gate design features steel and glass construction in a symmetrically modern design that adds a unique distinction to the home's entryway. The silver steel frame blends in beautifully with the white laminate glass panes. Using white laminate glass gives the gate an airy feel while offering privacy inside the the courtyard area. The steel frame is arranged in a stunning modern configuration that accentuates the home's entrance. Equipped with an electric strike release the gate can easily be unlocked for guests using the home's access system.

Our modern garage doors and gates are authentically designed to suit each home's unique style. Investing in Dynamic Garage Doors and Gates adds functionality, beauty and value to your home. Consult with our in-house designers with your custom door project, we can create something new or work off your architectural drawings or personal ideas.
View the transformation this Los Angeles home's curb appeal went through after upgrading the garage door and entry gate with custom designed doors by Dynamic Garage Door! Your home might be suffering from an architectural identity crisis or lacking curb appeal beauty because of old, raggedy garage doors or gates that were never meant to give it some dignity.

Dynamic Garage Door's specialty is creating unique architectural garage door and gate designs that bring back the curb appeal and beauty of many Los Angeles homes as well as homes across the nation and abroad. This home is a perfect example of a gorgeous home that was looking bland and boring as it lacked authentically designed architectural garage doors and gates. The transformation from bland to phenomenal was simply achieved by upgrading the courtyard entry gate system as well as the garage door.

Just flip through this custom garage door and gate project pictures to see what an enormous difference our custom garage door and gate made. In the end, the investment was a bargain because the property curb appeal and value increased immediately!